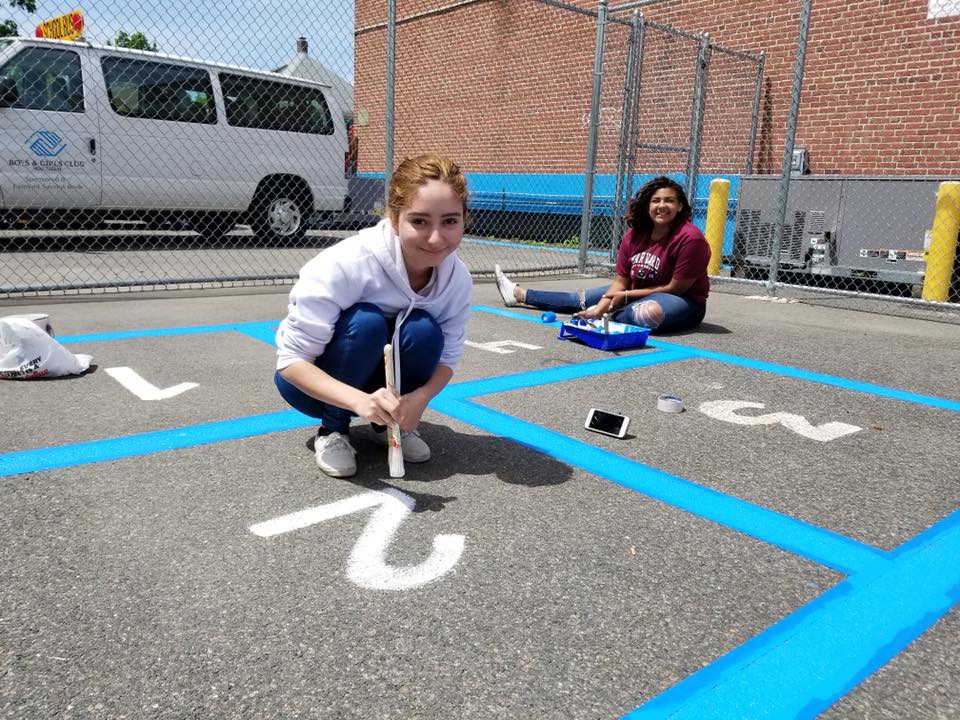 *Due to COVID-19, opportunities are limited and based on current guidelines and safety protocol*
Volunteering can be a great way to build teamwork, foster relationships, and give back to your community! Throughout the year, we partner with corporate groups, schools, and nonprofits to accomplish projects that make an impact on our Club and Waltham youth. Below is some more information about our corporate group volunteer program.
Please fill out our Corporate Volunteer Group Interest Form to begin planning your project! For questions, please contact Erin Donovan, Resource Development Director at edonovan@walthambgc.org.
Date and Time​
Most group volunteer opportunities are from September through mid-June, with a limited few in the summer. Projects take place on weekdays, with the exception of school holidays, and generally run from morning to mid-afternoon. We ask that groups doing outdoor projects commit to a designated rain date whenever possible. Please note that we have a limited number of group volunteer opportunities each year; requests are taken on a first-come, first-served basis.
Group Size​
We ask that groups plan to bring between 5 – 25 volunteers. Larger groups can be accommodated based on capacity.
Project​
Projects are based on current needs and can vary based on the time of year. These primarily include Club beautification, light-duty gardening and mulching, painting, cleaning and organizing, and special events for kids. No experience is required!
Registration
Groups may request a project and date by completing the Corporate Volunteer Group Interest Form. Our staff will follow up to confirm details and booking.
General Information
Every volunteer group needs to have a designated Point of Contact/Team Captain who will communicate with the WBGC and be on-site during the project.

If you expect volunteers under the age of 18 at your project, please discuss this with us to decide if there are appropriate tasks for younger volunteers.

Some of our projects occur outdoors and weather can be unpredictable. Due to this, groups working outdoors are asked to schedule a rain date following the primary project date.

Volunteers are always required to wear closed-toed shoes and should dress appropriately for the weather and the project with clothes that can get dirty.

We want all volunteers to have fun, ask questions, and feel great about helping the community and supporting Waltham youth!
Corporate Engagement Fee
We ask all of our corporate and for-profit volunteer groups for an engagement fee made in advance of their volunteer day. We are deeply grateful for the work of our volunteer groups and this fee helps cover the costs of planning and executing our volunteer events and supports the Waltham Boys & Girls Club.
For corporations who would like to bring up to 10 volunteers, the requested fee is a minimum of $500. For corporations that have 11 – 25 volunteers, the fee is a minimum of $1,000. This fee can be waived for organizations that provide a comparable level of financial support through other activities, such as sponsorships or agreed-upon in-kind donations. Please call us to discuss groups of 26 or more volunteers.
Often this type of contribution can be requested through your organization's corporate communications office. If you need assistance in making this request, let us know!