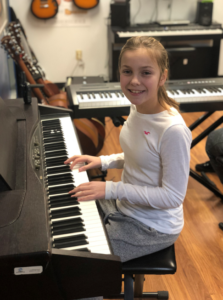 Music Education is widely known to provide enormous benefits for youth in both personal development/self-esteem and academic development. 
We offer different programs for group instruction such as our Songwriting and Ukulele Club, Piano Workshop, Junior Band, Cover Song Challenge and more! Come by the studio and learn to make your own beats, try out different instruments, write your own song, and take part in community projects.
Music Lessons
Did you know that the Waltham Boys & Girls Club is now offering one-on-one lessons in addition to our existing music programming? Now there are even more options for getting involved with music in a fun, stimulating environment.
What we teach:
Voice
Ukulele
Piano
Songwriting
Beginner guitar
Beginner Bass
40 minute lessons $75/7 weeks: (beginner level) voice, ukulele, guitar, bass, piano, and/or songwriting lessons. Great for youth who have never worked with any of these instruments or written songs and would like to learn the fundamentals.
40 minute lessons $90/7 weeks: (more advanced) voice, ukulele, piano, and/or songwriting. Great for youth who already have a basic understanding of these instruments/skills and would like to build upon them further.
Registration Opens: week of 9/23
Time: Mon.-Fri. from 3-4pm
Date Range: week of 9/30-week of 12/09
Makeup Week: 12/16-12/20
Club Closed/No Lessons On: 10/14, 11/11, 11/18, 11/28, 11/29
Instructor: 
Sarah Khatami: A recent recipient of a B.M. in Songwriting from Berklee College of Music under an annual full-tuition scholarship, Sarah Khatami is an R&B/pop singer/songwriter. Prior to joining The Waltham Boys and Girls Club team, Sarah worked at The West End House Boys and Girls Club as a music instructor. She has studied voice and songwriting with music industry legends such as Livingston Taylor, Melissa Ferrick, and Chantel Hampton. Sarah has played many venues across the United States and Europe with her all-female band, The Shirzans, and has also released music on all digital platforms, securing airplay on many college radio stations. In November 2018, Sarah was invited to join renowned Persian pop artist, Andy, on stage at the Berklee Performance Center to perform a duet of Persian classic, Gole Sangam. When she's not at the WBGC Music Studio, she's teaching Farsi music lessons at the Iranian Association of Boston and rehearsing, writing, and recording with her band. For more samples of her work, feel free to check Sarah out on YouTube, iTunes, and Spotify simply by searching "Sarah Khatami."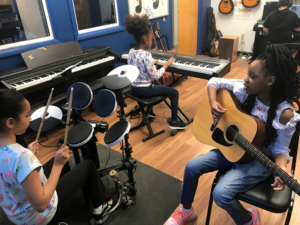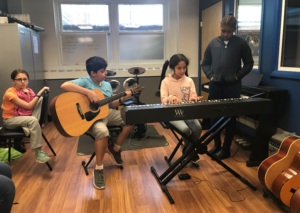 Music Studio Fun!