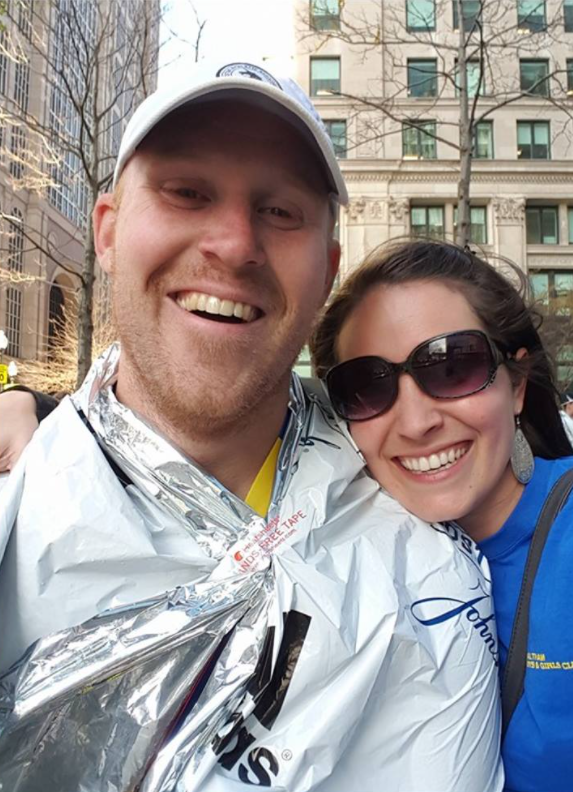 Two things will propel Chris Young across the finish line at the 2022 Boston Marathon: the City's resilience shown after the 2013 bombing, and the mission of the Waltham Boys & Girls Club.
Chris remembers running in the 2013 Boston Marathon shortly before the event's bombing. He's been able to return to run the race five more times since. "Every single run I have gone on since April 15, 2013, my mind has wandered back to that day, nine years and thousands of miles, I run to remember that after hate, love and joy can thrive, and I run to remember how blessed I am to be able to go out and tussle with the beast."
This year, Chris will return to the Hopkinton start line all to raise funds for the Waltham Boys & Girls Club. "The most amazing part of the race is seeing how many charity bibs are out there and how many people put so much effort into both training and fundraising. For a sport that is about the individual, I have never felt more a part of something bigger."
As a youth advocate, currently serving as Associate Director of Secondary School Counseling, 8th Grade Dean, and Head Football Coach at the Fessenden School, Chris was inspired by the mission of the Boys & Girls Club long before his professional career began. "It was actually on the heels of my volunteering experience at the Boys & Girls Club on Blue Hill Ave that I pivoted my career to youth development."
His motive to raise money for the Waltham Boys & Girls Club, in particular, is a personal one, he says. "My connection to the Club runs deep! My wife has served as Executive Director for almost ten years, my oldest son is a proud Club kid, and I try to volunteer as much as I can."
The 2022 Boston Marathon will be Chris' fifth Marathon race in support of the Waltham Boys & Girls Club. If he meets his fundraising goal this year, he would have raised a total of $35,000 for the Club over the span of his running career – and he doesn't plan on stopping anytime soon.
"I am fundraising because I have seen firsthand how much the kids that go to the Club benefit from their programs. As an educator, I see the value of enrichment activities as a supplement to one's education every day. The Waltham Boys and Girls Club provides so many opportunities for kids to engage socially, academically, and athletically – all critically important areas for kids to access and grow- especially after so much time spent in isolation. I take great pride in my connection with and fundraising for the organization."
To donate to Chris's Boston Marathon Run in support of the Waltham Boys & Girls Club, please click here.
Want to learn more about what it takes to train for a Boston Marathon? Follow Chris' training updates on Instagram or keep on reading below to hear his personal take on what's in store for him leading up to Marathon Monday, April 18th.
---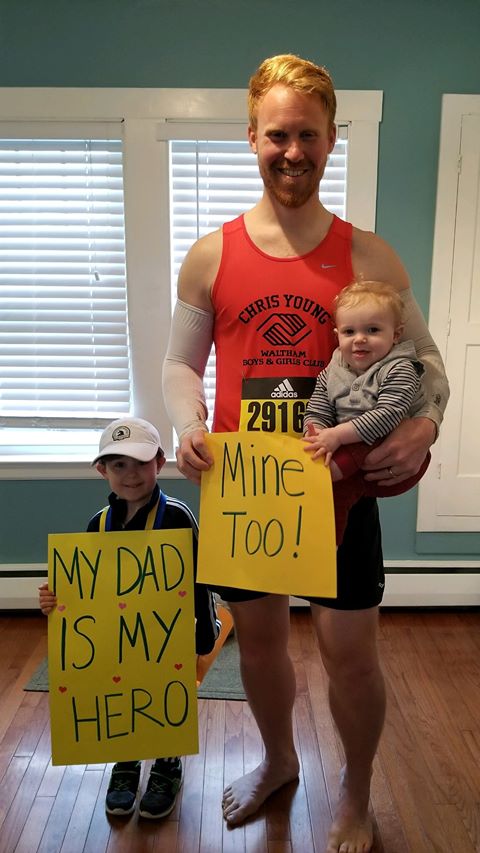 How have you planned out your training leading up to this year's race?
During the pandemic, my running really fell off for a number of reasons. I am very excited to be running this year because it has forced me to start running again. Typically, it takes about 16 weeks of training to get ready for a marathon and the BAA has some great training plans that I have used in the past. This year, I got the bib with only 8 weeks to train and fundraise. It has been a sprint trying to get back in shape but I have felt good so far. It is helpful to be able to remind myself that this year's focus is not on setting a PR, it's on having fun and finishing strong.
Music or no music when running? If music, what's on your pump-up playlist?
I actually prefer to run without music because it is a good time to clear my head and lose myself in my thoughts. There is something spiritual about going for a long run with just your thoughts. That having been said, I listen to everything! On my 20-miler, I started with Carol King, James Taylor, and Cat Stevens because it was a Sunday morning and that's how my mom used to start her Sunday mornings. I worked in a lot of Dave Matthews, Dispatch, and Eddie Vedder about 6 miles in. At 12-13 miles I started listening to the Fugees, Tribe Called Quest, and Common. I finished with Pandora taking me wherever it wanted, a few Disney songs may or may not have worked their way in and I wasn't mad about it.
What advice do you have for first-time marathoners heading into Boston this year?
My advice would be to practice mindfulness throughout the race. It is so easy to build a race plan that focuses on your splits, your hydration, and your nutrition, but most people forget to build in reminders to soak in the amazing experience around them. You will see so many inspiring people along the route. If you are tired and don't think you can go on, run up next to another charity runner and ask them why they are running. I assure you that you will get an amazing story and with it, the will to push through whatever wall you are hitting.
What message would you like to share with the young kids and teens rooting for you at both the Waltham Boys & Girls Club and Fessenden School?
My favorite running quote comes from the book "Born to Run" by Christopher McDougall. It talks about the little voice in your head that tells you to quit during a challenge – "the beast." It goes on to explain that the reason we take on challenges is so we can practice beating them.
My message would be for young kids to remember to love "the beast" when they take on a challenge. To remember that the reason they took on that challenge was to call "the beast" out and find a way to beat it. And when "the beast" shows up they can smile and know that they are about to grow and get better as they tackle the hardest part of their challenge.
I know two things for sure: on Marathon Monday, somewhere between Hopkinton and Boylston Street "the beast" is waiting for me. And I know that out there somewhere it is waiting for each and every one of you too. I hope you will seek it out, and when you find it. I hope you look "the beast" square in the eye and say "Buckle up, because today I am taking you for one hell of a run."