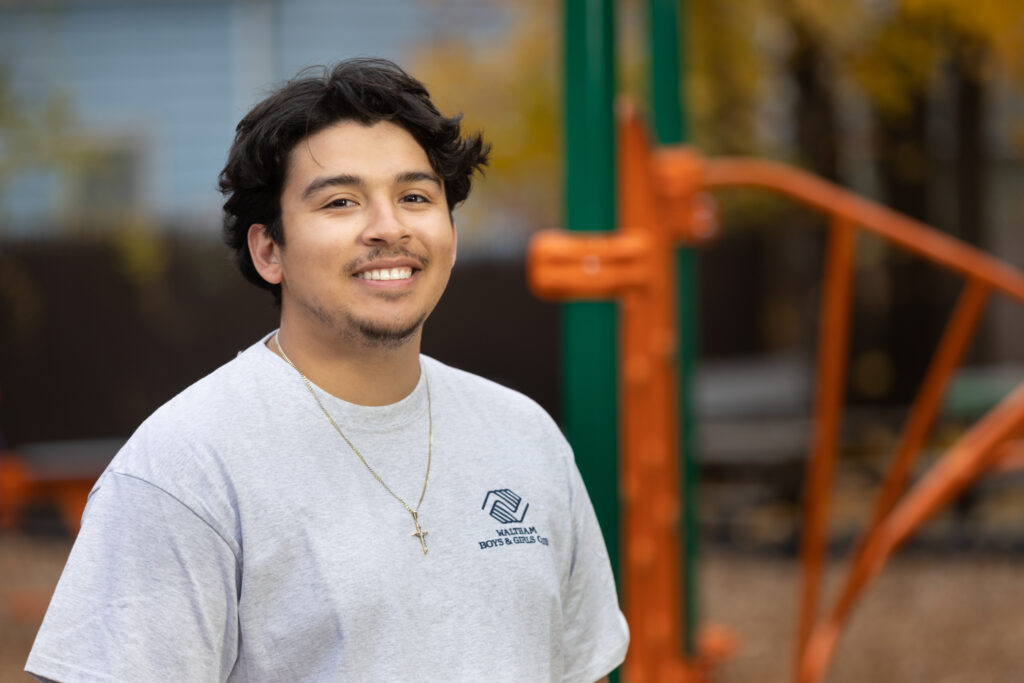 When Out-of-School-Time Program Assistant Junior clocks in for his shift at the Waltham Boys & Girls Club, he is greeted every day by an enthusiastic welcoming committee made up of Club members of all ages. It's no wonder he has been named the most recent recipient of the "Whatever it Takes" Award for going "above & beyond" in the best interest of the Waltham Boys & Girls Club.
The Club's quarterly award recognizes extraordinary staff for their dedication to the Boys & Girls Club mission, outstanding achievements, and a positive 'whatever it takes' attitude that exhibits their unwavering commitment to supporting the Waltham youth and teens our Club serves each day.
As an Out-of-School-Time Program Coordinator, Junior is responsible for implementing program plans for youth in grades 1-8 and encouraging participation in all areas of the Club.
As a former Club kid, Junior is no stranger to the dynamics that play out at the Waltham Boys & Girls Club. He was a member for nearly 10 years before signing on as a staff member. What motivated him to come back in a professional capacity? "The Waltham Boys and Girls Club has always been a welcoming place for me and I see that same impact in the youth I work with. It's a full-circle moment being able to share the lessons I learned here with the youth I work with today, and see them develop into young leaders," Junior said.
When Junior is not rotating from each classroom to ensure kids are doing well, you can find him at his favorite spot at the Club – the gym. It's here where he feels he can make the strongest connection with Club members. "As a Club kid, some of my favorite things to do was play soccer; I signed up for every sports activity there was. My favorite thing to do now is teach our members about sportsmanship and teamwork through sports. I love playing the roles of 'coach' and 'cheerleader' for these young kids."
And colleagues would agree that Junior's passion and commitment to serving youth wherever they need him are undeniable. "Junior walks into the Club with a smile on his face every day. We appreciate his investment into the "whole child" and it's quite refreshing to see the positive relationships he is building with the youth and families in the community," said Waltham Boys & Girls Club Director of Operations Jason Smith.
"He is always aware of what is happening with the members in his room and is always proactive in engaging with their parents. I could not think of anyone better for this quarter's nomination," added Waltham Boys & Girls Club Program Director Ashleigh St. Peter.
When he is not working at the Waltham Boys & Girls Club, Junior likes to coach soccer, volunteer with other youth-centric community organizations, and hang out with friends. He is currently a student at Mass Bay Community College studying Human Services and credits the Waltham Boys & Girls Club for setting him up for success on both a personal and professional level. "The employee-supervisor connection is strong here at the Club. I would say my biggest mentor here is Caitlyn – she is an advocate for my growth and has empowered me to become the best employee I can be for the Club."
Five years from now, Junior hopes to serve the Waltham community as a firefighter or first responder, but he will always remember the Club as being the first place that encouraged him to do something greater than himself. "No matter what you decide to do in life, don't worry about the income, focus on the outcome."
Waltham Boys & Girls Club appreciates Junior's hard work and dedication to his role, his fellow colleagues, and the company. Congratulations on a well-deserved recognition.