The new year is starting strong for academic excellence at the Waltham Boys & Girls Club (WBGC) as they announce its Students of the Month for January and February 2021. These students have been enrolled in the Club's School Day Learning Center, which was established last fall to support students in grades 2-12 as they navigate the new world of remote learning. This model was developed to meet the challenges presented by the ongoing COVID-19 health crisis and provide students with technical assistance to connect with their teachers virtually, academic support for independent learning, social and emotional support, and physical activity breaks.   
Each month Waltham Boys & Girls Club staff nominate members who best demonstrate a good attitude, respect for others, dependability, hard work, volunteerism, honesty, trustworthiness, and academic achievements.  Each student receives a Student of the Month certificate and will have their picture on display in the main hallway at the Waltham Boys & Girls Club. 
The Boys & Girls Club is proud to recognize the following students with January and February's Student of the Month distinctions. 
JANUARY 2021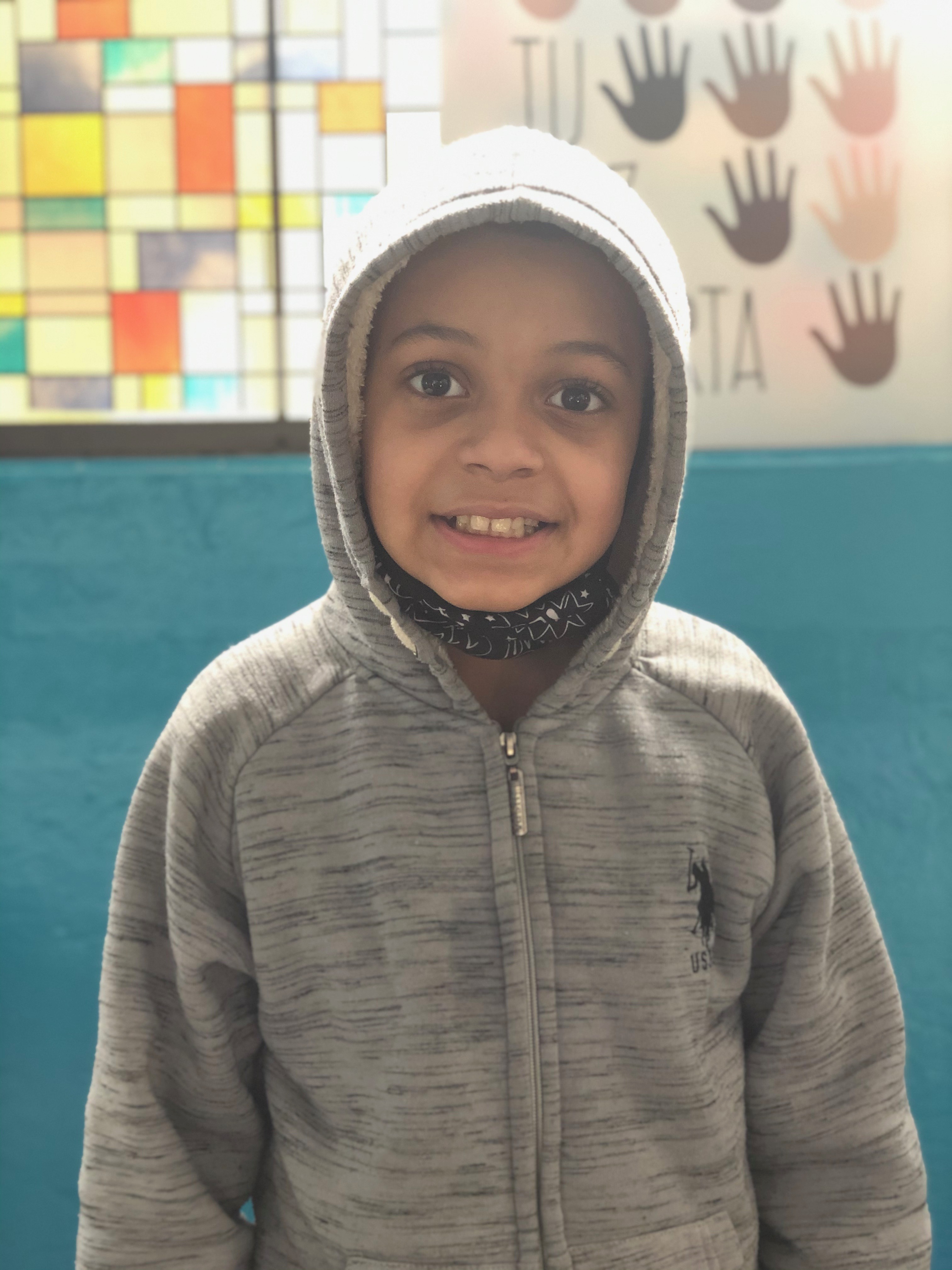 Student of the Month, 6-10 Age Category: Callebe Dos Santos
Callebe is recognized as January's Student of the Month for serving as a shining example of what a good friend and leader looks like. He tries to include everyone in games and finds solutions to problems. A problem solver, Callebe is often helping his classmates find resolution, while maintaining a calm demeanor. Callebe is helpful in kindly reminding his classmates how to stay safe and be a good friend. Staff also appreciate how involved he is; he's often willing to try an activity without persuasion even if he is unsure at the beginning and finishes it with a sense of accomplishment. The staff want to recognize all these efforts and the growth he's made as a reminder of all his work. Congratulations on being Student of the Month, Callebe, we are so lucky to have you be a part of our WBGC family!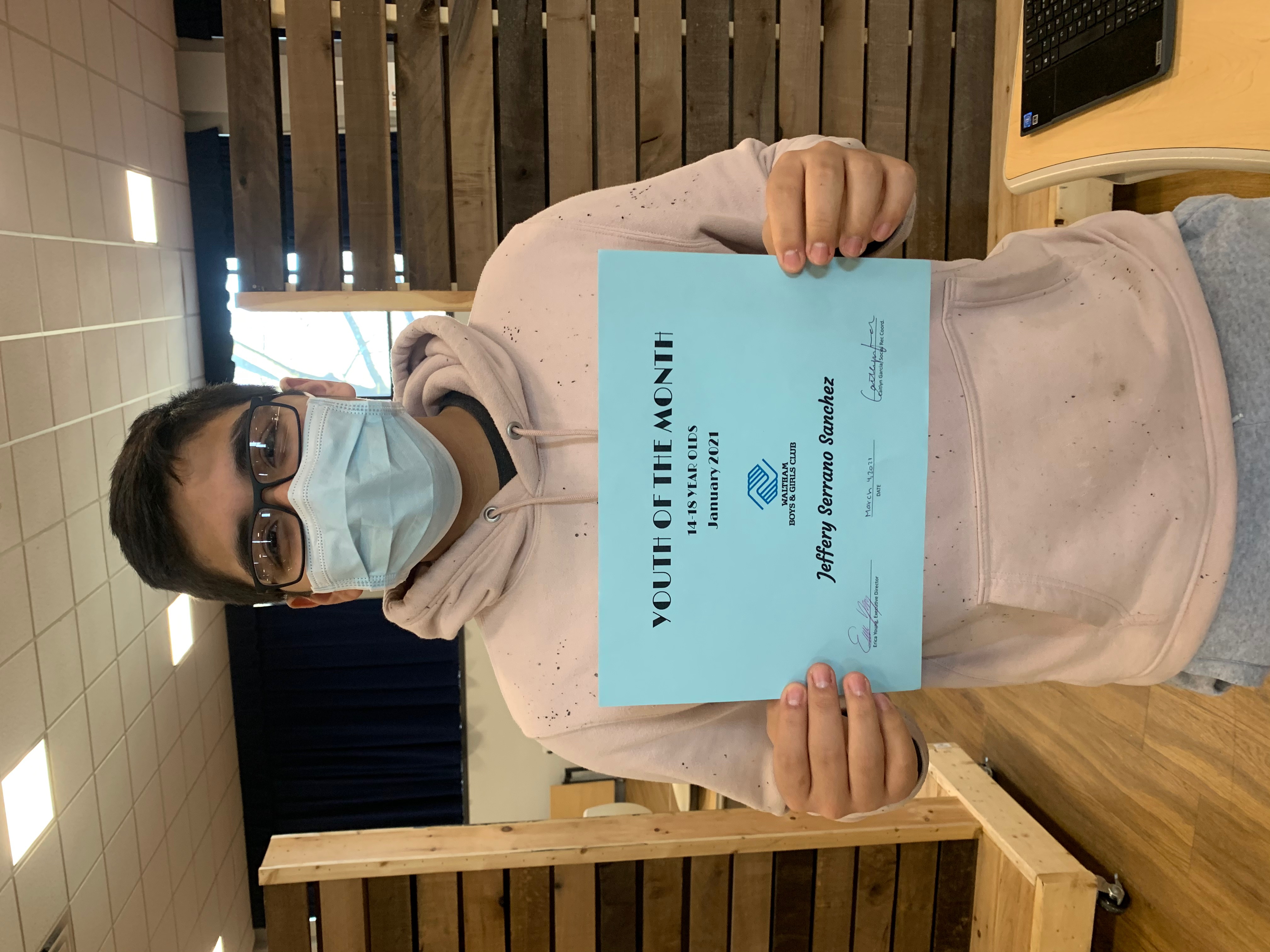 Youth of the Month 14-18 Age Category: Jeffrey Serrano Sanchez
Responsible. Trustworthy. Dedicated. These are some of the character traits staff would use to describe Jeffrey. A Club member for more than ten years, Jeffrey has showcased exemplary growth and compassion to staff and members alike. Passionate about creating change, Jeffrey is a proud member of the TrailBlaze Club at Waltham High School and a member of the Club's Watch City Keystone Teen Leadership Program – two groups that focus on community service projects. Jeffrey is currently in his senior year of high school and has earned himself a spot on the Honor Roll, all while starting a new job at Bright Horizons, completing three internships, and applying to college. When he is not preparing for his bright future as an educator, Jeffrey enjoys playing basketball and working out. "Jeffrey is definitely a role model to others and is well respected by his peers," adds Teen Program Director Kendall Gillians. "With Waltham Boys & Girls Club in his life, Jeffrey has been able to build a support structure that is enabling him to reach his goals and fulfill his dreams."
FEBRUARY 2021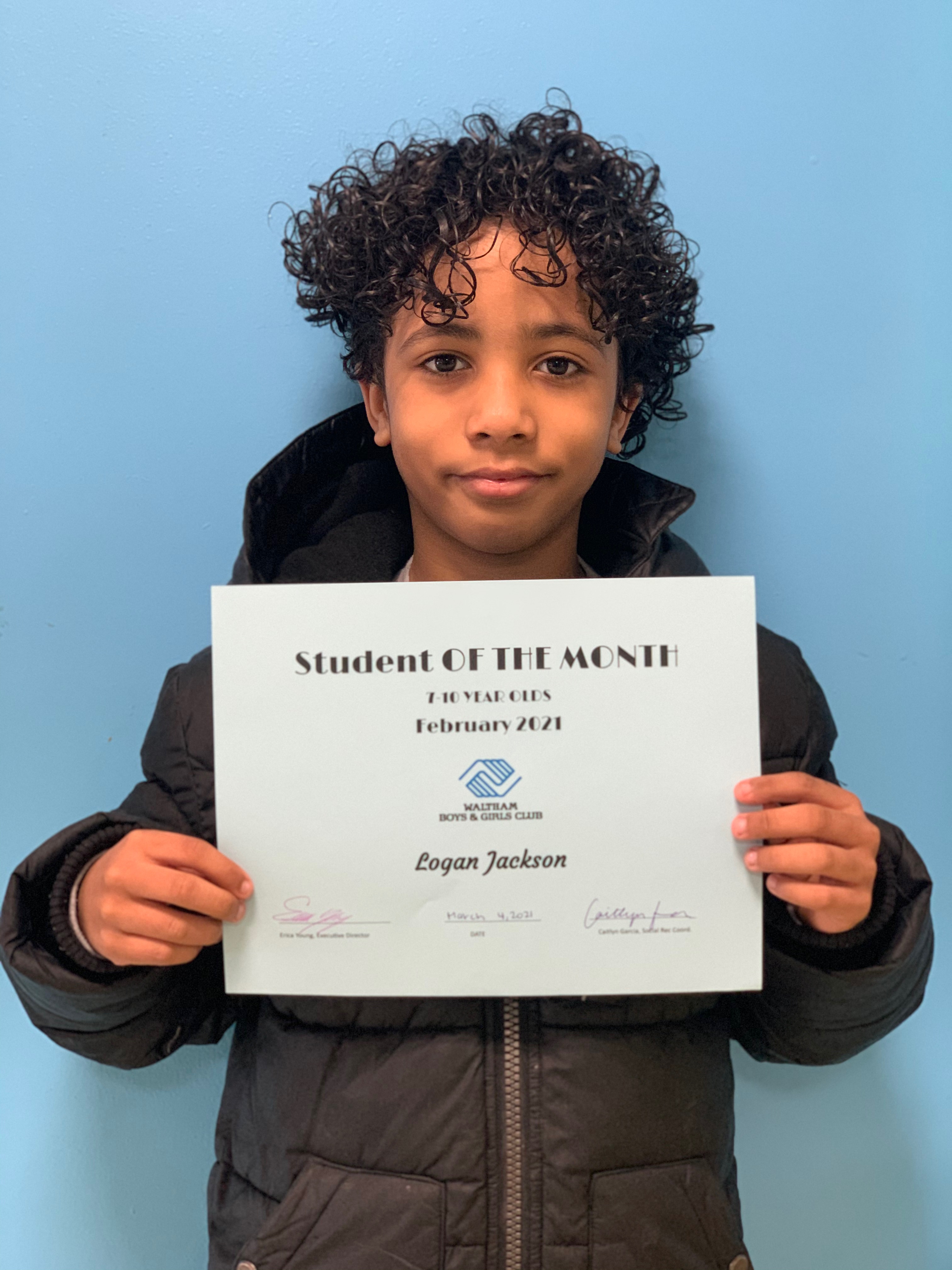 Student of the Month, 6-10 Age Category: Logan Jackson
Anyone who meets Logan Jackson knows that he brightens the mood in any room. Those who get to know him see his brilliant curiosity, fierce determination to improve, and devotion to his family and community. Logan, a third grader, has been a member of the Club since he was about five years old. He has a lively, outgoing personality with an incredible sense of humor. We nominated Logan for the impressive personal and academic growth he has shown in the past couple of months. He has earned recognition from his teacher for his great improvement in class, showing a positive, encouraging attitude to his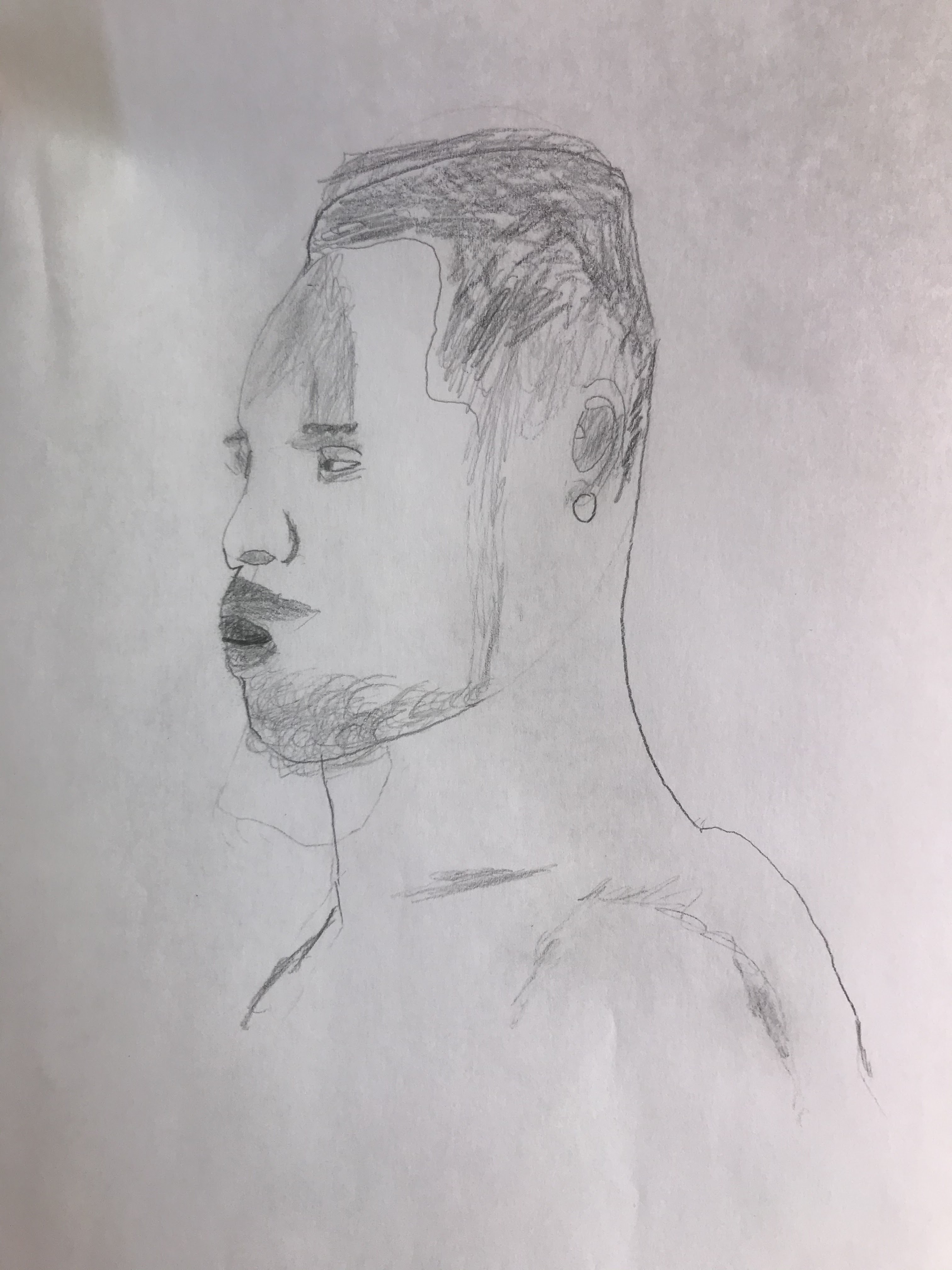 classmates and working hard on his assignments. He treats others with kindness and is a team player. In his free time Logan loves playing sports, particularly football, and engaging in any sort of challenge. Lately he has been determined to improve his drawing skills and requested "drawing lessons" from one of our staff members who has noticed his keen attention to detail and perseverance. Included is one of the sketches Logan produced after a few lessons. Logan brings so much to our Club with his buoyant energy. We are so happy to have him as a part of our WBGC family.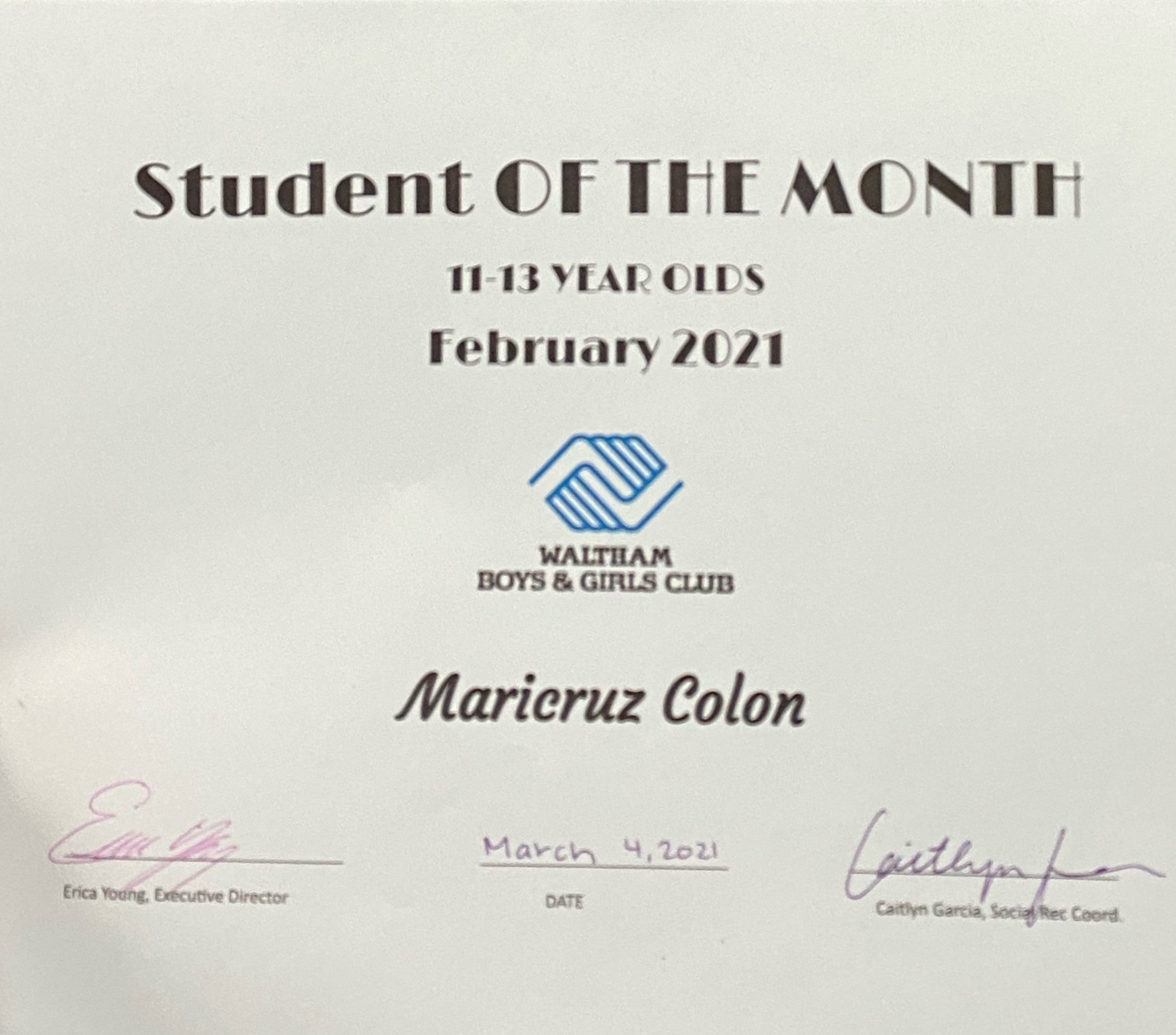 Student of the Month, 11-13 Age Category: Maricruz Colon
Throughout this school year, our community has stressed the importance of always "choosing kind." Maricruz Colon definitely is a role model to others in being able to choose kind in all life situations. Staff members describe her as being respectful to everyone – encouraging others when participating in any activity. Maricruz's commitment to her school work has improved greatly resulting in better grades this past semester. Waltham Boys & Girls Club Sports & Fitness Coordinator Zach Curran best describes Maricruz as a very positive, outgoing, respectful, caring, and strong-minded individual. When she is not at the Club, Maricruz enjoys streaming YouTube videos and staying active with sports.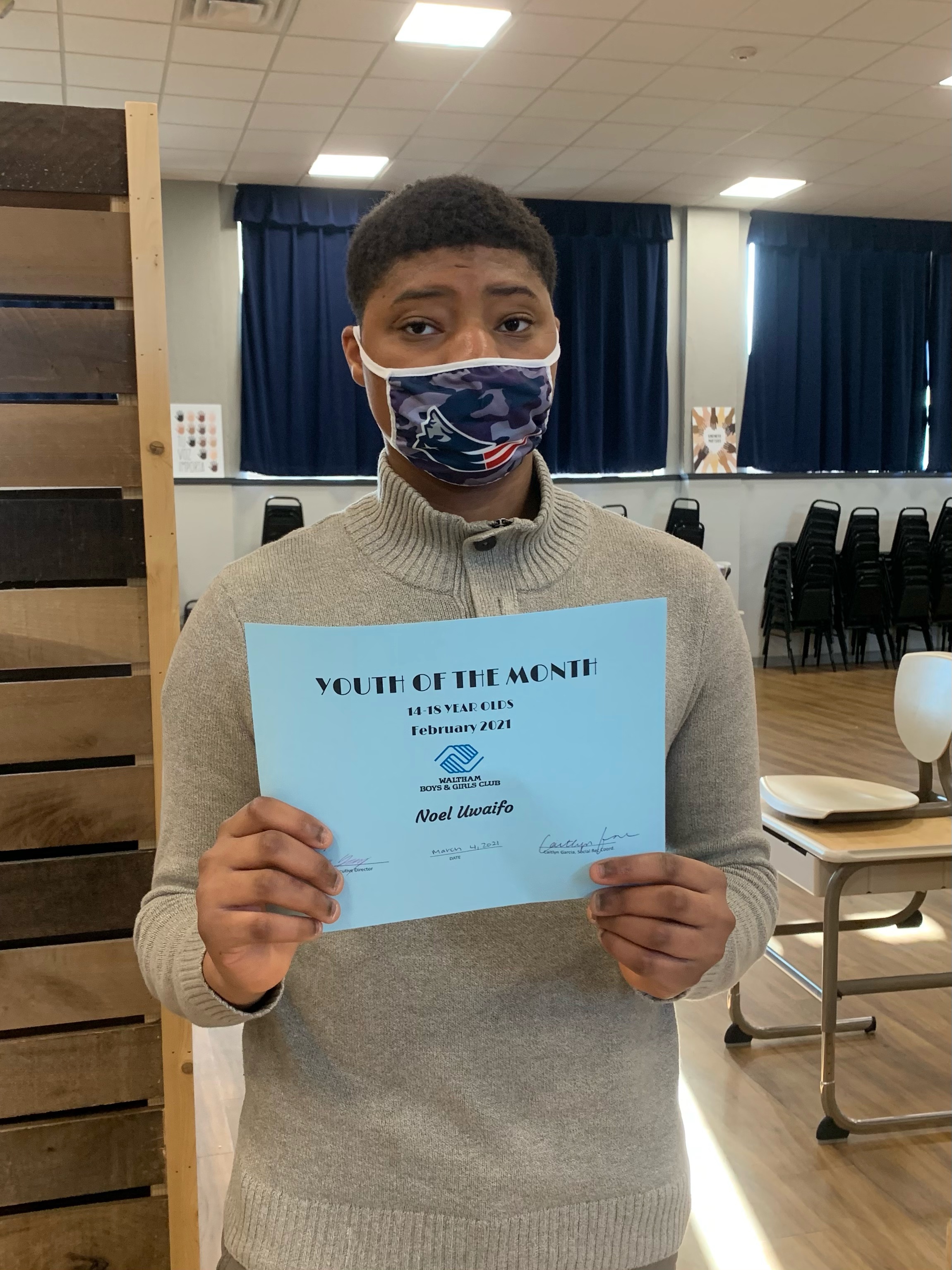 Youth of the Month 14-18 Age Category: Noel Uwaifo
Noel has been a member of the Waltham Boys & Girls Club for two years and, in that short amount of time, has built relationships and proven to be a dependable leader among his peers. Despite starting his freshman year of high school remotely, Noel has remained engaged in all of his classes, providing insightful input when called upon by his teachers. His dedication to his school work is reflected in his improved grades this past quarter. When Noel is not making others laugh with his energetic and playful demeanor, he enjoys playing video games and watching anime. "No matter the challenge or obstacle, Noel is always able to come to the Club and have a positive attitude. His spirit and energy is what sets him apart and it's a pleasure to see Noel recognized as February's student of the month," adds Teen Program Director Kendall Gillians.
---